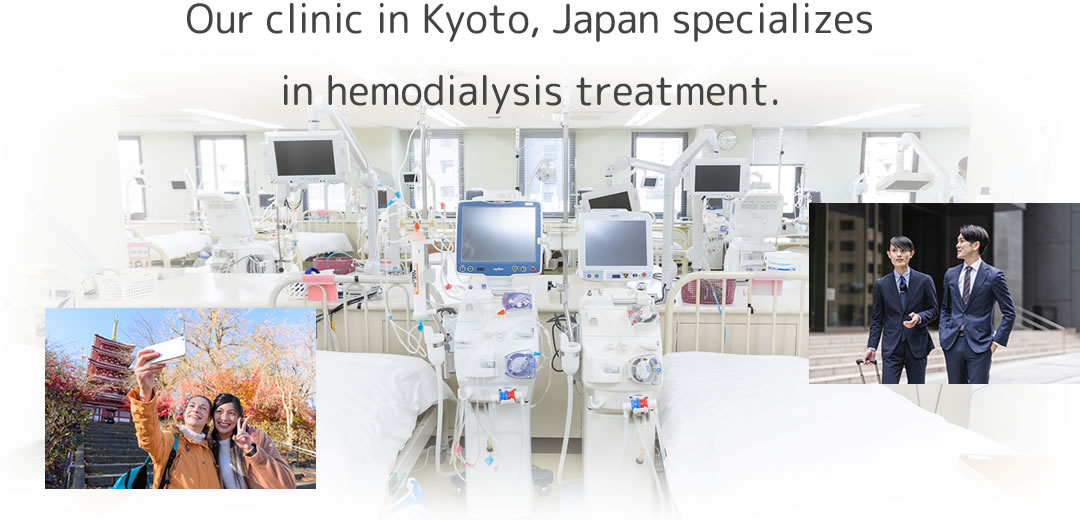 We are a fully licensed and accredited kidney dialysis clinic offering dialysis for temporary visitors to Japan. We offer a safe, clean, and comfortable environment for your dialysis needs. We are dedicated to helping make travel comfortable and fulfilling for our patients while they undergo dialysis treatment away from home.
Our team of professionals is committed to providing education, support, and counseling to all our patients, facilitating a healthy and positive treatment process.
Steps and Guidelines
for Travel Dialysis/Temporary Dialysis
Reservation
Please use the application form at the bottom of this page.
Reservation confirmation
Document submission
Document submission: Please send us your dialysis prescriptions and recent treatment records by email.
Visiting our clinic
Please bring these required documents and items
Medical information form (Please obtain it from yourハcurrent/home doctor in charge of dialysis.)
Insurance card, medical ID card, etc.
Emergency contact information (name of a family member, address, telephone number, etc.)
Preparing for treatment
Personal items
A large bath towel (to place on the bed)
Small towel (to cover the pillow)
Pajamas (short-sleeved or easy to roll up)
Clean indoor shoes (sandals, slippers, rehabilitation shoes, etc.)
Cup (for taking medication)
Two tourniquets (available for purchase at our clinic)
It is recommended to bring your own headphones (but they are available for purchase at our clinic)
※Please note that the above list is a general guide only, as your specific needs may vary. Please feel free to contact us for more information or if you have any questions.
Payment
Please inquire about the cost and make payment in cash at the checkout.

FAQ
1. Languages spoken?

Japanese & English

2. How much is the dialysis per session?

About 50,000 yen

3. How far in advance to book the dialysis treatment?

At least 2weeks in advance.